Do you ever wonder how we ever survived without the internet?  When you had to buy a CD (or tape) to listen to a particular song you liked, back in the day when you actually had to pay $.50 or so for the local newspaper in order to read it, or heaven forbid, when you actually had to drive to the store in order to buy that outfit you'd had your eye on?   I have been in bed recovering from surgery for the past few days, and fully taking advantage of all the conveniences of the world wide web.  That includes shopping.  Way too much shopping.  Let's just say, I'm going to become very familiar with our new UPS guy within the next few days.  I'm going on vacation at the end of the month and I needed a few new clothes for the beach.  Right??  That's my story, and I'm sticking to it.  Anyway, I thought I would share a couple of my favorites that have already been delivered.
I've really been into dresses this summer, especially in this heat, so when I saw these on the Anthropologie site, I knew I had to have them.
The first one is the Gull Wing Dress by Girls from Savoy.  It comes in several different colors, but I purchased the striped one seen here.  For some reason, it reminds me of something Kate Beckinsdale would have worn in the movie Pearl Harbor.  It has a nautical feel to it, which I love.  It's made of silk, so it's very lightweight and airy.  I'm also loving the black polka dot, a really cute vintage look.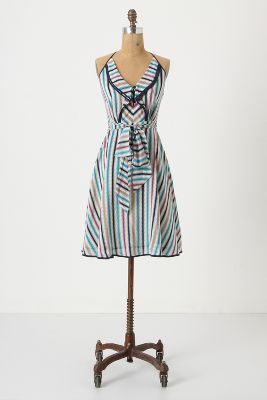 The next one I bought, and probably my favorite, is the Tupelo Dress by Maple.  I wasn't that crazy about it online, but I came across some good reviews and decided to chance it.  The colors are much more vibrant in person, and I love the neckline.  It is silk as well, but the cut of the dress makes it casual enough for everyday wear or you could pair it with heels for evening.  And did I mention it is crazy comfortable?  And it has pockets!  It's the little things that make me happy.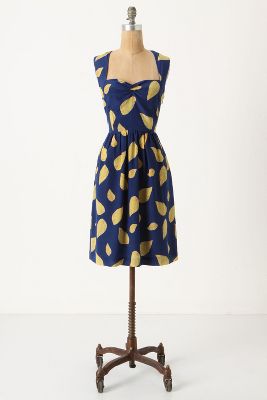 When I was trying these dresses on, I kept thinking, "these would look awesome for an engagement session."  Clients usually ask what to wear for their engagement photos, so here are a couple others from Anthropologie that I think would photograph wonderfully.  Note: I didn't purchase the following dresses (yet).  I did show some restraint :).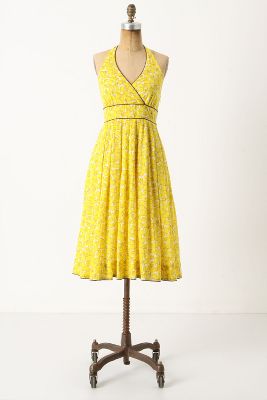 The Meyer Meringue dress.  It has lemons on it for crying out loud.  How cute is that?
The Backswept Dress.  I mean, does it really need any explanation?  Just look at that photo.
Okay, people – go forth and shop.  I'm going back to bed.